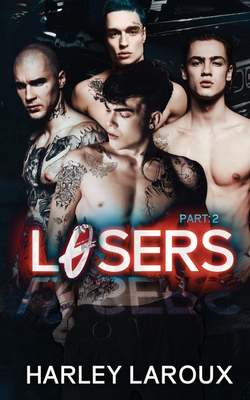 Losers: Part II
This product is not returnable.
Publication Date:
December 7th, 2022
Publisher:
Harley Laroux Publications
This item is not eligible for store pickup.
Usually Ships in 1 to 5 Days
Description
Every action has consequences.
I made one foolish mistake and ended up with a debt I had only one way to pay...by bowing my head and submitting to the men I swore I hated. But in their dominance I found catharsis. In the darkness we share, parts of myself were brought to the light.
I've been wearing a mask for far too long.
Now I'm torn between the future I thought I wanted, and a life I once believed was only fantasy.
These feelings between us were never just a game.
What am I willing to sacrifice? My pride and carefully laid plans, my determination that I can do it all alone? Or my new-found freedom to live without boundaries with the men who turned my world on its head? How much am I willing to give up?
Who am I willing to lose?
Although not required, it is recommended to read the novella, The Dare, prior to reading Losers.
This book is part 2 of a duet. It is First Person, Multi POV.
Losers is an 18+ polyamorous bisexual romance between one woman and four men, including MF, MM, and group scenes. Reader discretion is strongly advised, this is a dark read. This book contains graphic sexual scenes, intense scenes of BDSM, graphic violence, and strong language. A full content note can be found in the front matter of the book.